You are here
Back to top
The Land of Milk and Uncle Honey: Memories from the Farm of My Youth (Paperback)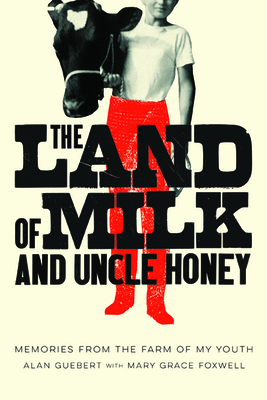 $19.75
Usually Ships in 1-5 Days
Description
---
"The river was in God's hands, the cows in ours." So passed the days on Indian Farm, a dairy operation on 700 acres of rich Illinois bottomland. In this collection, Alan Guebert and his daughter-editor Mary Grace Foxwell recall Guebert's years on the land working as part of that all-consuming collaborative effort known as the family farm.
Here are Guebert's tireless parents, measuring the year not in months but in seasons for sewing, haying, and doing the books; Jackie the farmhand, needing ninety minutes to do sixty minutes' work and cussing the entire time; Hoard the dairyman, sore fingers wrapped in electrician's tape, sharing wine and the prettiest Christmas tree ever; and the unflappable Uncle Honey, spreading mayhem via mistreated machinery, flipped wagons, and the careless union of diesel fuel and fire.  
Guebert's heartfelt and humorous reminiscences depict the hard labor and simple pleasures to be found in ennobling work, and show that in life, as in farming, Uncle Honey had it right with his succinct philosophy for overcoming adversity: "the secret's not to stop." 
https://www.youtube.com/watch?v=DooGQqUlXI4&index=1&list=FLPxtuez-lmHxi5zpooYEnBg
About the Author
---
Alan Guebert has written the nationally syndicated column "The Farm and Food File" since 1993. His awards include Writer of the Year and Master Writer from the American Agricultural Editors' Association. Alan and his wife, the lovely Catherine, live in rural Delavan, Illinois. He can be found on the Web at www.farmandfoodfile.com.
 
Mary Grace Foxwell graduated from Saint Mary's College in 2007. She and her husband Andrew co-direct the social media advisory firm Foxwell Digital in Madison, Wisconsin. Gracie may be reached at www.foxwelldigital.com.
Praise For…
---
"Guebert is a master storyteller, bringing to life the cast of characters --family members and hired men -- whose hard work made Indian Farm run."--Edible Chicago

"The romance of farm life and the reality of farm life have very little in common. Alan Guebert's The Land of Milk and Uncle Honey delves into life on Indian Farm in Illinois during the fifties, sixties and seventies. . . . Guebert tells intimate stories of his youth, tied up in hard work and sacrifice."--Los Angeles Magazine






 
"Alan Guebert is the rare writer who eloquently combines his personal story and journey with where agriculture is headed. With humor and honesty Guebert tells like it is--and gives his readers the tools to fight for a food and agriculture system that is fair for farmers and workers and safe and healthy for eaters. I recommend this book to anyone who wants to hear the story of food from someone who has been following it for the last three decades."
--Danielle Nierenberg, President, Food Tank

"As authentic, honest, accurate portrayal of farm life on an American dairy farm in the last half of the twentieth century as you can find anywhere."
--Gene Logsdon, author of Gene Everlasting: A Contrary Farmer's Thoughts on Living Forever
"Guebert is an award-winning agricultural journalist… This is an eloquent collection of stories about life on his family's farm in southern Illinois during the 1960s and `70s."--Edible Madison

"Fun and lightly written… a loving examination of a place and time that have disappeared in the past half-century. The author reflects on hard work, a beloved family, and the often oppressive weather of America's heartland. This book is a good book for a rainy (or snowy) day."--The Annals of Iowa